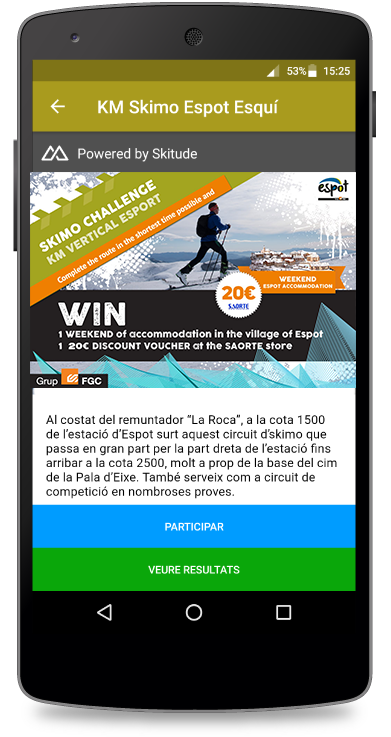 Why a virtual race?
It is a different race, which has no date or schedule, you can do the day and at the time you want, alone or accompanied, but participants can always compare with the rest of competitors and with themselves.
You can do as many times as you want and it is virtual so that users compete with everyone and with anyone. The participants will live an unique experience, enjoy wonderful views, because they can choose the time and the company and where they will find terraces, grottos, lookouts, rodeos, pools, waterfalls ...a show.
How does the system work to participate?
- Download the Espot application and create your personal My Skitude profile.
- Access the "Timed Routes" section and sign up for it.
- To start the timing, read the QR that you will find at the beginning of the route with the application and go to the QR that you will find at the end of the route.
- Once you reach the end of the route, read the QR code again with the app to end your timed route.
- Your result and ranking will be available both in the app, as well as the websites of www.espotesqui.cat and www.skitude.com.
- You can make the route as many times as you want. Your profile will keep all the results and the classification will be your best record.
What does the registration include?
Registration is free and you just have to follow the steps above. The route can be done during the ski season and if the weather allows it.
What prize can I win?
The winner will take a weekend, consisting of a voucher redeemable for a stay for two people 1 night on a bed and breakfast basis and 2 valid day passes for the Espot station during season 18-19, subject to availability of plazas. In case of a tie in the recorded times, the first chronologically registered record will be selected. Once the challenge is over, the winner will be announced through the conventional Skitude channels, email, Facebook and Twitter.